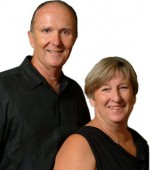 TOMMY AND JULIA MCDONNELL
Since 1972, we have been seeking to live a healthy, energetic, well rounded life style using yoga, qi gong, herbal medicine and alternative medical practices and following a diet consisting of fresh foods as close to their natural state as possible. We believe in preparing foods just prior to eating rather than using foods processed for shelf life. We eagerly seek organic and non-GMO food sources and live as 'Green' as possible.
As part of his massage therapy training, Tommy was introduced to Qi Gong. He resonated with  '18 Style' and felt it's benefits almost immediately. Having diffused low back pain and problems for several years with a yoga practice, he began to experience actual healing and strengthening from the practice of Qi Gong.
Over the years we have shared our interest in healthy lifestyles with others. We have been Yoga Teachers, Qi Gong Instructors and Massage Therapists. Tommy specializes in Shiatsu Massage. Julia is trained in Traditional Chinese Medicine as an Herbalist and is also a Reiki Master. In addition we have pursued an interest in Metaphysics and Eastern Philosophy.
We have happily raised five healthy, successful, and productive children and are very proud grandparents of 13 grandchildren.
In our spare time we help people Locate Apartments in Tempe, Mesa, Chandler, Scottsdale and East Phoenix. For fun we enjoy our hobby, restoring and driving pre 1967 vintage Volkswagens.